Garmin FR60 Fitness Watch with ANT+ wireless sync
Garmin have announced their latest GPS-enabled exercise trainer, the FR60 Fitness Watch.  Thanks to the ANT+ wireless fitness equipment standard, the FR60 can track time, calories burned, heart rate and other data from linked fitness equipment, then - with the supplied ANT+ USB stick - wirelessly transfer that information to your PC when it comes into range.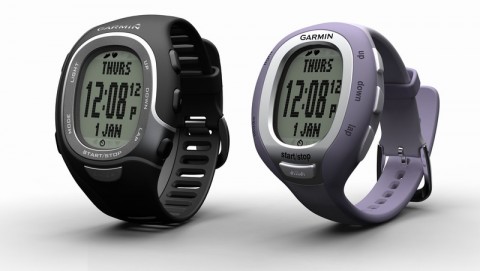 The Garmin FR60 comes as standard with a heart-rate monitor, and several bundles also include a 'foot pod' that can be used to record pedometer data.  That's in addition to the GPS receiver, which can record up to 15hrs and 100 laps of detailed exercise records, including route and performance statistics.
Various activity-specific accessories are available, such as bike speed and cadence sensors and handlebar mounts, and gym equipment using the ANT+ standard will also wirelessly link to the watch.  Both mens and womens versions are available, each with access to the Garmin Connect online training site, for workout sharing and access to messageboards.  No pricing for the Garmin FR60 has been announced so far.
(Via SlashGear.)